Wow! So much has happened in one year that it is hard to even comprehend and write a neat post about. After scrolling through a year of posts in the forms of personal reflections and community stories, there are three things I am most grateful for: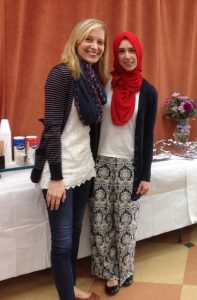 1. My friendship with Sondos
Our own '2 Faiths 1 Friendship' is what got all of this started on Martin Luther King Jr. Day one year ago. We were good friends already for 4 years before we began our writing project, but the past year of working together has made our friendship go from good to great. We hit several challenges along the way in which Sondos's kind and gracious attitude helped so much. I continue to be amazed at how similar we are and how the differences we do have compliment the work we seek to do. So not only was it our friendship starting this work, it is also our friendship that has sustained it and keeps pushing it forward. The difficult things that happened this year were halved, the joys were doubled.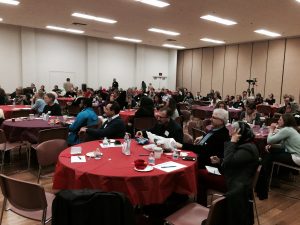 2. My friendship with our community
As Sondos points out in her reflection, this time last year we started primarily just writing about our own friendship. However, the responses started pouring in from around the world and the biggest question we got was: "How can I get a '2 Faiths 1 Friendship' like yours?" So we shifted our focus from our own friendship to helping others get on a similar journey. Mixers, home-made dinners, training-in-homes, bonfires, and other spontaneous and grassroots initiatives emerged. It has been an indescribable joy to hear the stories from the community that was formed around 2 Faiths 1 Friendship!
So dear reader: whether I know you from our events, local neighborhoods, or if you are in our online community, I want to say that I am so deeply grateful for you. It is YOU who is pushing this peace-building movement forward! Thank you for letting me be a part of your story!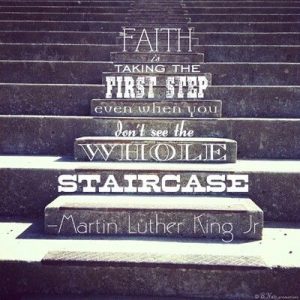 3. Guidance from God
I knew without a doubt that God was moving us to get started, but believe it or not, I often find it hard to write and putting my personal stories online for others to read. So I would often drag my feet. Sondos would need to push me that the deadline was really coming and I really needed to upload soon (Thank you for that, Sondos! ;)). Thankfully, after spending time in prayer, I would often get the kind of inspiration and drive to keep going.
It is quite unbelievable how amazing God is! When scrolling over a year of personal and community stories, I see that God was guiding each step of the way and I'm overcome with a deep sense of gratitude. God gave the inspiration when needed for posts and events, He opened the doors for us to share our stories, to find spaces that would host our Mixers for free, He opened people's hearts to donate to the work so that it could keep going, and it was Him who gave us wisdom on how to deal with certain challenges that arose.
We often look at each other amazed at how God's guidance works: it is always right on time! He is our Sustainer to keep up the great work that we only just started to scratch the surface of.
So thank you Almighty God, thank you community, and thank you Sondos for an incredible year. I look forward to seeing what 2016 will bring.
For Sondos's reflection on this past year, click HERE
To find out how you can support our work in the upcoming year, click HERE