There were moments in December that shook our respective communities to the core — between the San Bernardino attacks, outrageous remarks by public figures, and a pushback in accepting international refugees, local Muslims and Christians were left wondering how to eclipse all of the hate with an outpouring of love. Enter the "2 Faiths 1 Friendship" Christmas dinners!
Check out this video full of pictures and quotes from hosts and attendees:
Building upon the momentum of the Ramadan iftar dinners hosted by Muslims for Christians this past summer, Christian families volunteered to open their homes to new Muslim friends in honor of the Christmas holiday season. Throughout the month of December, Christian home after Christian home from all over the county warmly welcomed Muslim college students, mothers, fathers, children, and even grandparents for a delicious, home-made dinner and open dialogue.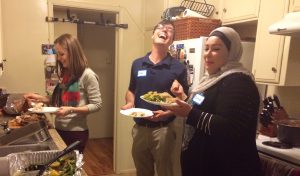 Each Christian host shared their family Christmas traditions, from learning about the origins of the Bethlehem star to decorating cookies to appreciating the way Christmas is celebrated in other countries.
Muslims were incredibly touched by the hospitality, especially in the midst of the month's backlash. "I was a little worried that I would say something that would offend them when speaking about Jesus and it turns out that they know a lot about Him," wrote one Christian host.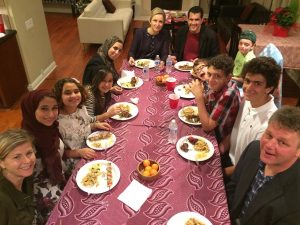 As a result, new friendships between Muslims and Christians were born, old friendships solidified, and both communities felt empowered to show the world a different narrative that upholds the values of love, trust, and hospitality. "I feel like I have Muslim friends now. I have always loved and wanted to have more Muslims friends but never had the opportunity," shared another Christian host. "It was a very warm and inviting atmosphere," said a Muslim attendee, "The evening was magical and heartwarming. The room was full of love and peace and understanding. We pray that these sentiments are replicated and felt with many more families."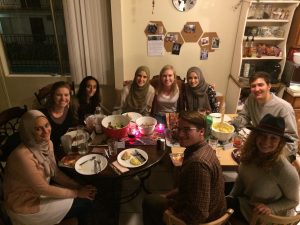 Another attendee shared, "I think it's important to break down the artificial walks we erect between each other. It's time to reach out across religious and cultural lines and just be friends and neighbors to each other."
One of the best responses to these dinners was by an attendee who wrote, "It brings people together who otherwise would not. It builds bridges. God wants us to love each other. This is fulfilling His Will."
Amen!