As I got ready to go to a bonfire with Muslim and Christian young adults, I realized something terrible had happened that day in Paris and Beirut the day before. I'm not sure why I wasn't aware of this earlier, but as I scrolled down my Facebook Feed and saw all the responses my mind got anxious and my heart filled with pain, anger, confusion, frustration and fear… lots of fear.
I've felt it every single day since Friday– it comes in waves and sometimes drives me to tears. Tears of sadness for the victims and their families (like tragedies like these before), tears of frustration against this senseless violence (also like before), and tears for the fear of backlash against my dear Muslim friends by people who keep thinking that terrorism and Muslims are synonymous (like also happened before).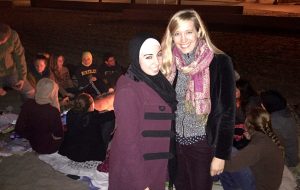 As soon as I met up with the Muslim and Christian friend that helped plan and organize the bonfire, we all found solace in being together and agreeing that we should do something that night about it (read more about that HERE). As we hugged and cried, I felt some of my fear slipping away and a love in my heart for my friends and the peace-building work we were doing replacing it.
One of the problems of fear, if not given it's proper place, is that it can push out love. The opposite is true too: Love pushes out fear: There is no fear in love, but perfect love casts out fear. – 1 John 4:18
And so, my dear reader– you have to know: I love my Muslim friends. Deeply. Period. No ' yes, but's' or 'what if's' or anything. Just love. Pure love.
Why? Because God loves us all. When I feel fear, the only way for me to deal with it is to connect deeply with God. He fills me up with His love, which then overflows to Muslims, Christians, anyone and everyone.
I cannot explain it. I wish I could. It can only be experienced. I have no doubt that if we ask God for His Love to move our hearts this will continue to happen. I know I need it on a daily basis. Sometimes the fear does not leave me entirely, but then I choose to love anyway and just keep going.
Honestly, I wish I could take you on a journey to experience some of this.
I wish I could give you my Facebook account password, so you could see what my friends in Paris, in Beirut, and even Iraq are saying how they overcome fear with love or how they keep loving even when they still feel fear.
I wish I could bottle up the love that exists between my Muslim friends and myself and pour this love out all over the world.
In these tough times we need to meet more often and be even more proactive in our peace-building efforts. Fear can drive us to live in isolation and we can think that isolation is somehow safe. It's not. I think it's actually more dangerous. I honestly believe that for Muslims and Christians to become friends (the kind that share their lives, seek to understand, explain their faith, and have deep compassion and understanding of each other) is the only way for us to start working towards solutions for all the terror and fear in the world.
Can you imagine? If all Muslims and all Christians had loving, honest and caring friendships what this could do to the world? We make up more than half of the world's population!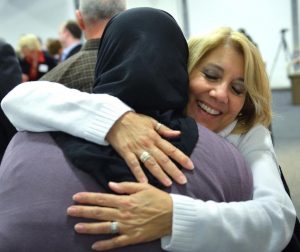 Maybe you think I'm crazy for thinking that's possible, but hundreds of Muslims and Christians are already experiencing this all over the world and we hope you join us! It takes us moving against our fears, coming out of isolation, away from our computers and having real face-to-face connections in which we talk and end in an embrace!
How do you do this? Check out these STEPS