How did you two meet? How does your faith inform the way you interact? Why do you do what you do?
All questions asked by Jeff Eagan, a teacher/writer/activator with the Isaac Ishmael Initiative, who interviewed us for his peace-building podcast called "Frienemies." We met him in Chicago at the ISNA conference and Shoulder 2 Shoulder program last month. The purpose of his podcast is to encourage dialogue between groups across religious and cultural boundaries, which is what we wholeheartedly believe!
We sat down with the hilarious Jeff in a (sometimes noisy!) hotel lobby to delve deeper into how we met and started the Miss Understanding initiative, thoughts on why we do what we do, and how working together has changed our lives. We thank Jeff for putting so much work into the podcast and are excited to share it with you all!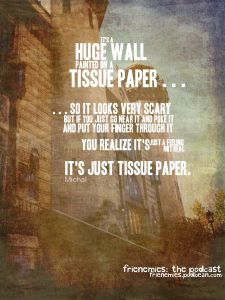 Click HERE to listen to the Podcast that covers the following:
0:00 – 0:50 Jeff introducing Michal and Sondos
0:50 – 3:15 The story of how Michal and Sondos met back in October 2011
3:15 – 7:40 Michal and Sondos's backgrounds and growing up "interfaith"
7:40 – 9:46 How Michal and Sondos's friendship has changed their lives
9:46 – 16:27 How faith informs why we do what we do
16:27 – 21:20 Simple, grassroots ways Muslims and Christians can build a friendship
21:20 –  22:23 Jeff's concluding remarks
(Unfortunately the three of us forgot to take a picture together. However, in the picture at the top of this post that was taken during one of the workshops we had with Shoulder 2 Shoulder, you can find Jeff on the far right and Michal and Sondos on the far left.)